About Integrity Pacts: how
Development and implementation
The five key steps to developing and implementing an Integrity Pact for a procurement project in a particular context.
Who develops and implements an Integrity Pact?
In most of the Integrity Pact experiences listed in the database, civil society organisations (CSOs) advocated that governments adopt Integrity Pacts and then served as monitors where the governments agreed to do so. These CSOs have mostly been national chapters of Transparency International.
Public contracting agencies may also initiate an Integrity Pact from their own initiative. Doing so helps demonstrate their commitment to transparency and anti-corruption measures in the face of public pressure. This can be at the federal, regional or municipal level.
As businesses recognise the benefits of committing to – and publicly demonstrating – anti-corruption compliance and transparency, more business associations are beginning to advocate for the use of Integrity Pacts in their industry. An example is a project by the Banknote Ethics Initiative and Basel Institute on Governance to promote the use of Integrity Pacts in the banknote industry.
Overview of the five-step process
Developing and implementing an Integrity Pact can be broken down into a five-step process. The process below is described from the perspective of the contracting agency and must be tailored to the context (see Tailoring).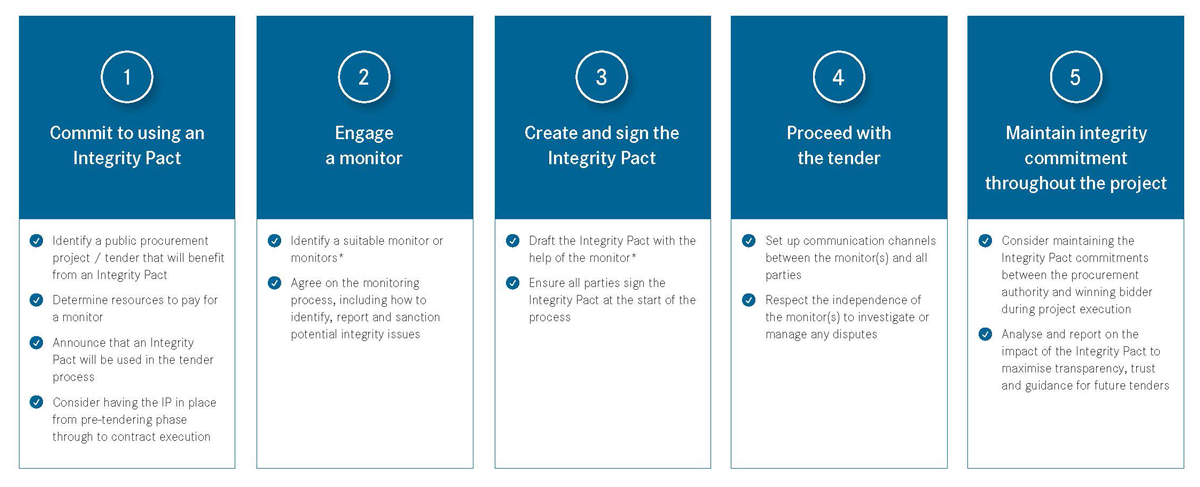 Five-step process for developing an Integrity Pact, based on Basel Institute research. Click on the image to download a PDF version that is freely shareable.
Further information
1. Commit to using an Integrity Pact
2. Engage a monitor
3. Create and sign the Integrity Pact
4. Proceed with the tender
5. Maintain integrity commitment throughout the project