This Siemens Integrity Initiative Annual Report 2022 gives an overview of the most recent accomplishments of the Integrity Initiative.
It provides a summary of project activities and outcomes in Section C based on information provided by the Integrity Partners as of March 2, 2023.
Related publications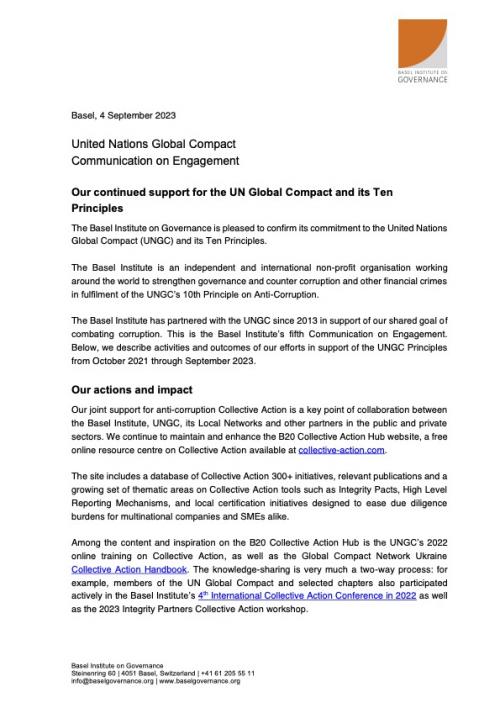 Report
United Nations Global Compact: Communication on Engagement 2023
2023 |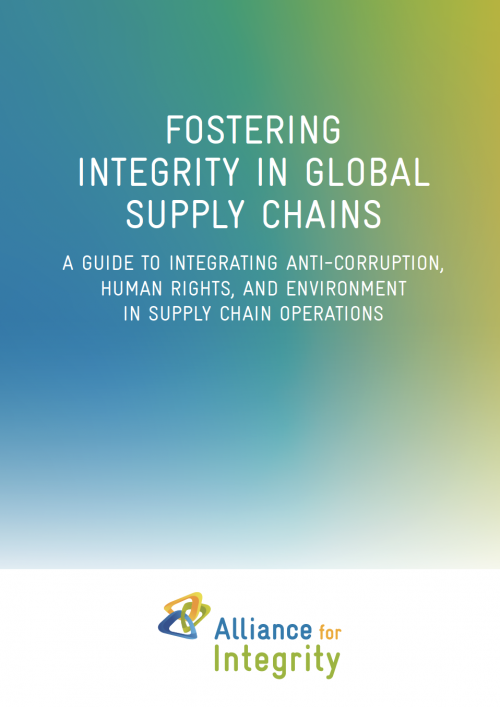 Guidelines
Fostering Integrity in Global Supply Chain
2023 | Alliance for Integrity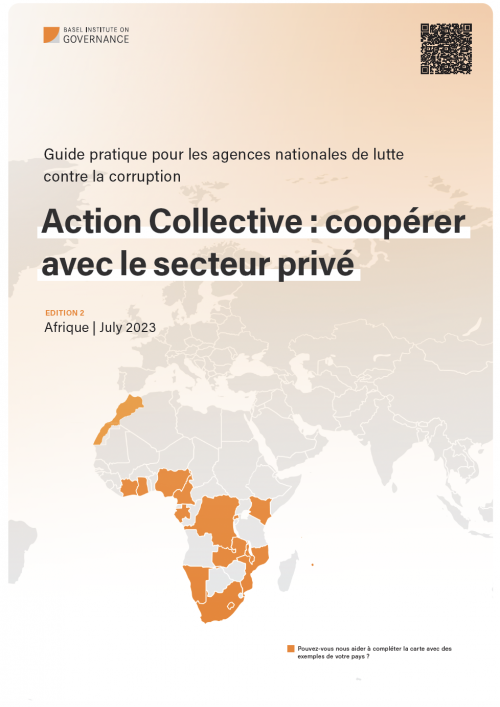 Guidelines
Action Collective - Coopérer avec le Secteur Privé: Guide Pratique pour les Agences Nationales de Lutte Contre la Corruption
2023 | Basel Institute on Governance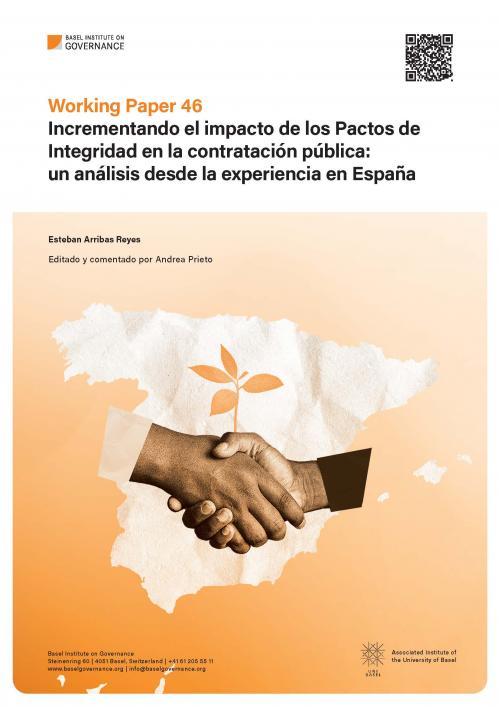 Working paper
Working Paper 46: Incrementando el impacto de los Pactos de Integridad en la contratación pública: un análisis desde la experiencia en España
2023 | Basel Institute on Governance
Esteban Arriba…
integrity pacts
public procurement
clean procurement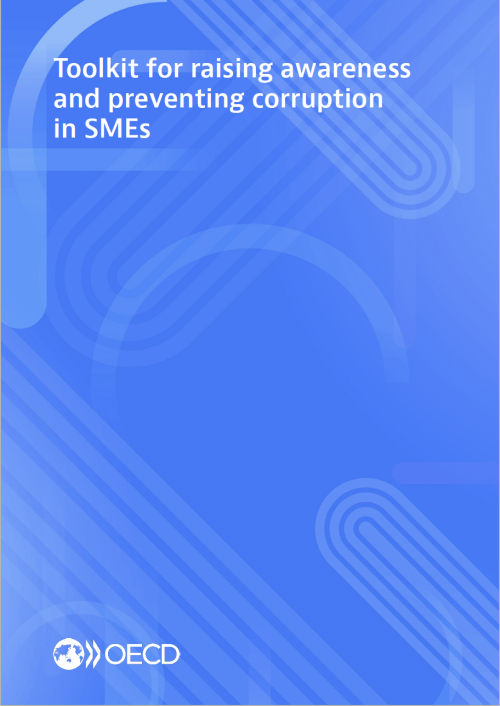 Guidelines
OECD Toolkit for raising awareness and preventing corruption in SMEs
2023 | OECD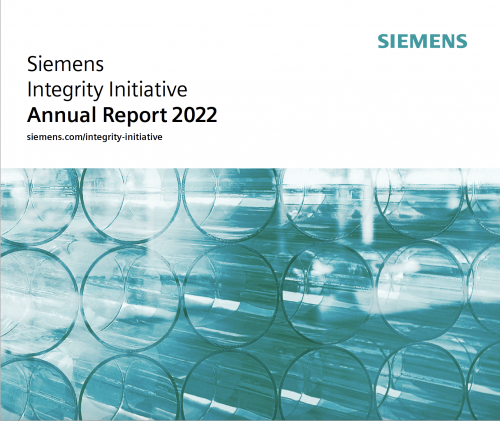 Annual report
Siemens Integrity Initiative Annual Report 2022
2023 | Siemens AG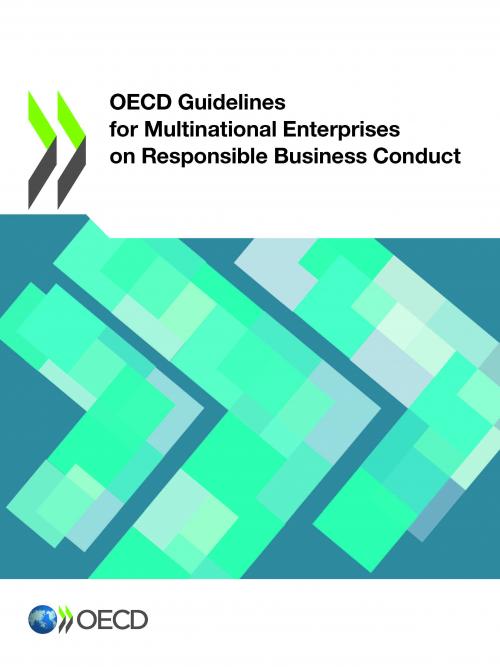 Guidelines
Guidelines for Multinational Enterprises on Responsible Business Conduct
2023 | OECD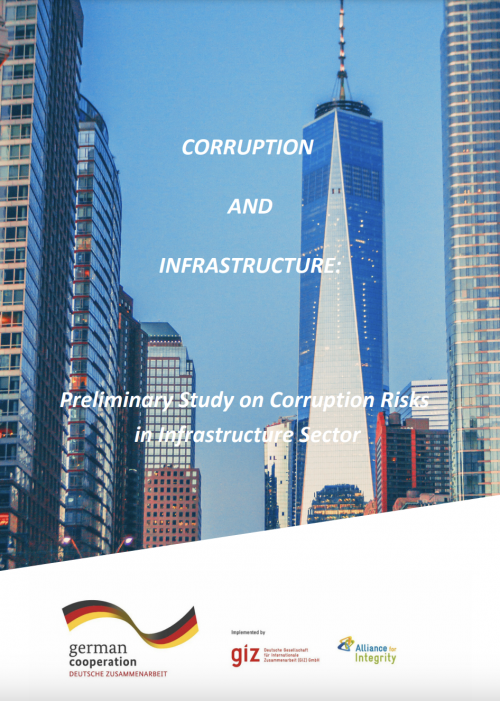 Case study
Corruption and Infrastructure: Preliminary Study on Corruption Risks in Infrastructure Sector
2023 | Alliance for Integrity
Lakso Anindito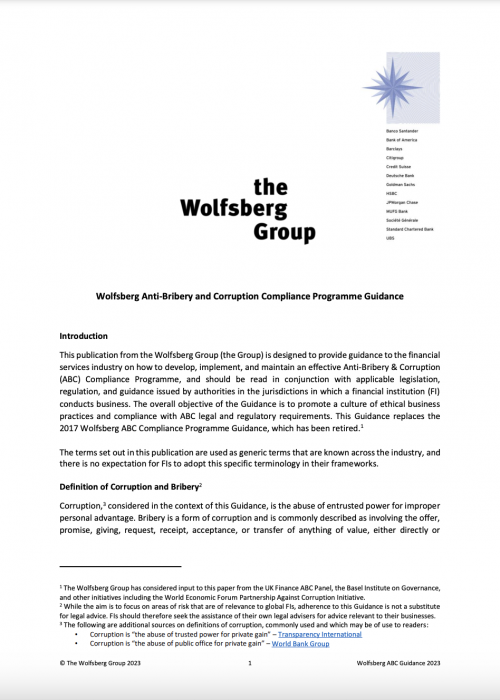 Guidelines
Wolfsberg Anti-Bribery and Corruption Compliance Programme Guidance
2023 | Wolfsberg Group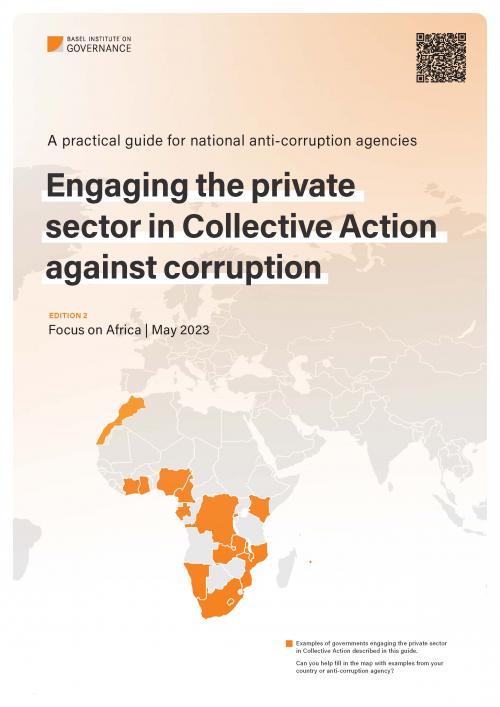 Guidelines, Report
Engaging the private sector in Collective Action against corruption: A practical guide for anti-corruption agencies in Africa
2023 | Basel Institute on Governance
Scarlet Wannenwetsch, Liza Young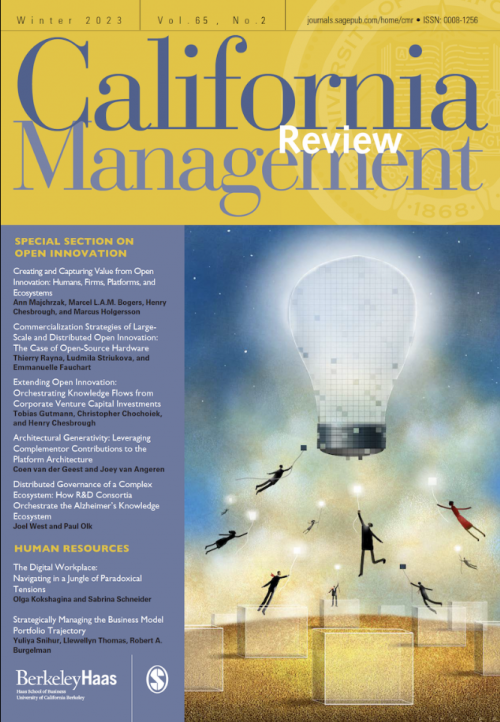 Article
The B20 Integrity and Compliance Recommendations: An International Framework for Action
2023 | California Management Review
Gemma Aiolfi, Scarlet Wannenwetsch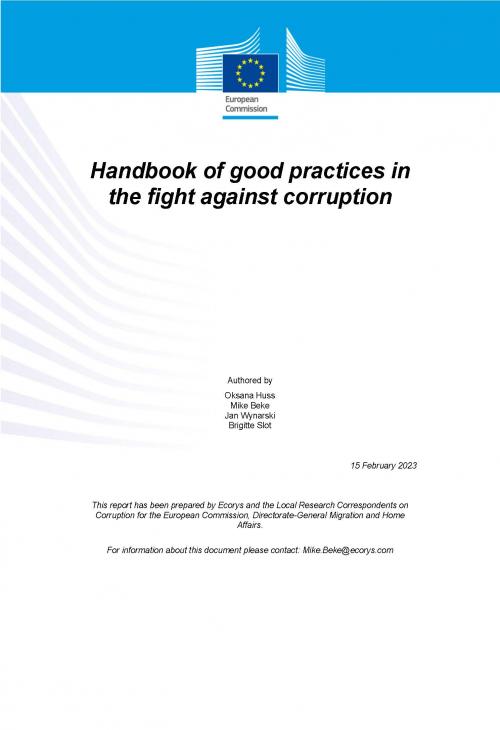 Guidelines
Handbook of good practices in the fight against corruption
2023 | European Commission, Directorate-General for Migration and Home Affairs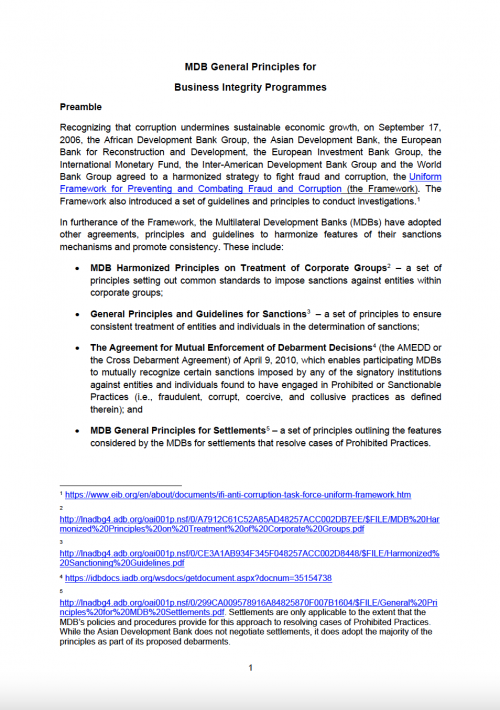 Guidelines
MDB General Principles for Business Integrity Programmes
2023 | African Development Bank Group, the Asian Development Bank, the European Bank for Reconstruction and Development, the European Investment Bank Group, the International Monetary Fund, the Inter-American Development Bank Group and the World Bank Group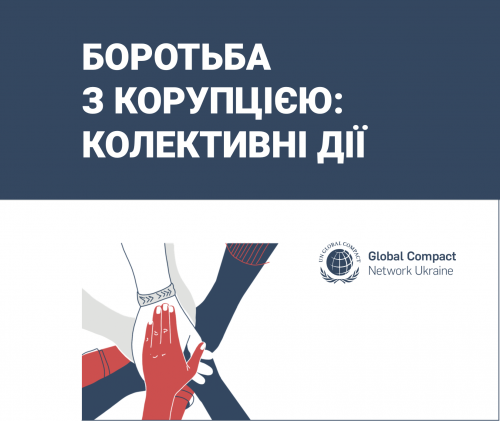 Quick guide
UNGC handbook - Fighting corruption: Collective Action.
2023 | UN Global Compact Network Ukraine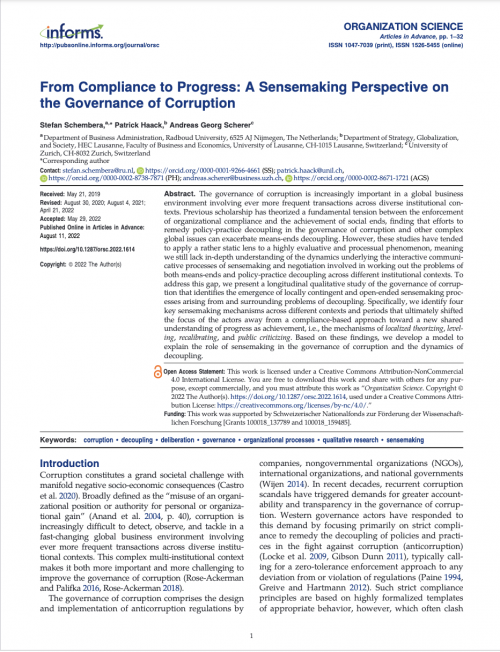 Article
From Compliance to Progress: A Sensemaking Perspective on the Governance of Corruption
2023 | Organization Science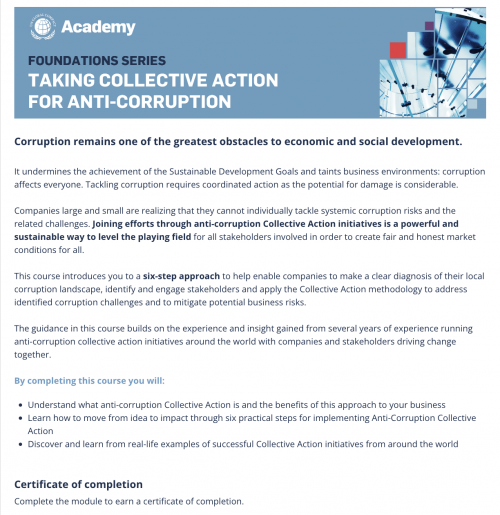 Quick guide
eLearning - Taking Collective Action for Anti-Corruption
null | UN Global Compact Academy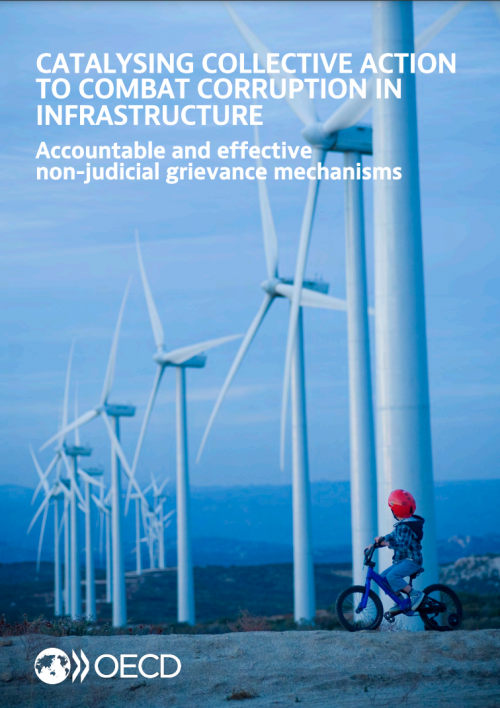 Report
Catalysing Collective Action to combat corruption in infrastructure
2022 | Organisation for Economic Co-operation and Development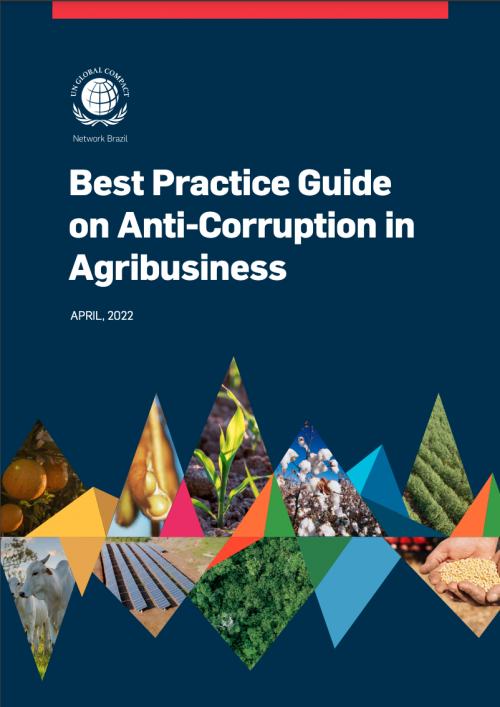 Report
Best Practice Guide on Anti-Corruption in Agribusiness
2022 | Global Compact Network Brazil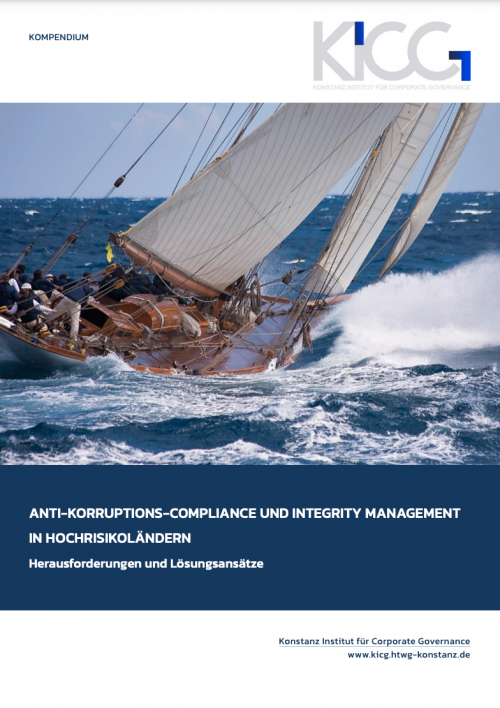 Report
Anti-korruptions-compliance und integrity management in hochrisikoländern - herausforderungen und lösungsansätze
2022 | Konstanz Institut für Corporate Governance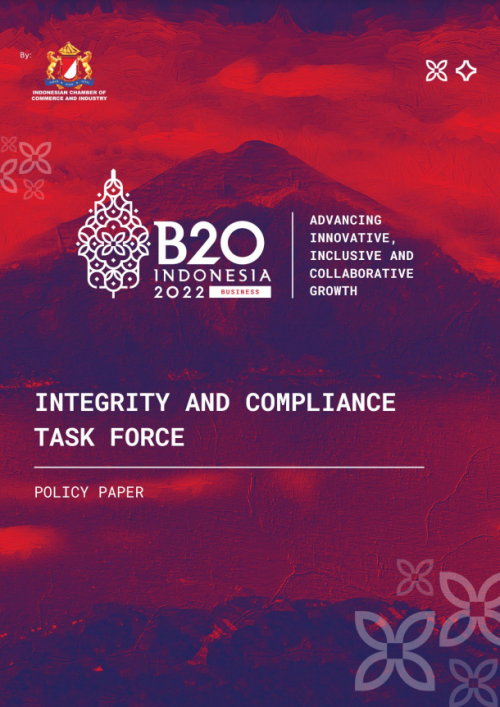 Guidelines
B20 Indonesia 2022 Integrity and Compliance Task Force: Policy Paper
2022 |
B20 Anti-Corru…