06.09.2022
For the sake of sustainability, clear out corruption – here's how accountants can play a role
Collective Action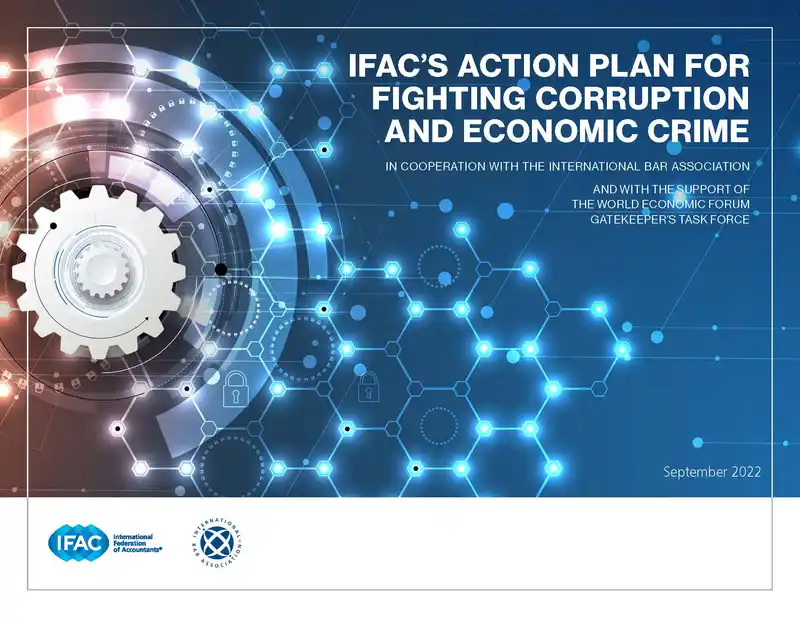 Economic crimes are significant obstacles to the UN Sustainable Development Goals, and professional accountants can play a pivotal role to clear a path. This guest blog by Kevin Dancey, CEO of the International Federation of Accountants (IFAC), marks the launch of IFAC's new Action Plan for Fighting Corruption and Economic Crime.
In 2015 all United Nations Member States adopted the 2030 Agenda for Sustainable Development, a shared blueprint for peace and prosperity for people and the planet. Its 17 United Nation Sustainable Development Goals (SDGs) present an urgent call to action for all companies, institutions and nations to take steps by 2030 that improve health and education, reduce inequality, and spur economic growth – all while tackling climate change. Yet in 2022, comprehensive global progress on the SDGs remains elusive.
It has become clear that corruption has presented – and will continue to present – a major obstacle to fully delivering meaningful progress against all 17 SDGs.
Corruption and related economic crimes, such as money laundering, bribery, illicit financial flows, tax evasion and fraud, deeply affect both human and economic development. The United Nations estimates that USD 5 to 7 trillion worth of annual investments is needed to achieve the UN SDGs. And USD 3.6 trillion is said to be lost to corruption each year.
On a regional scale, the presence of corruption hinders economic development by curtailing international investment and raising the cost of doing business. In short, citizens and legitimate businesses pay more money into a system in return for fewer of the services they need to survive comfortably.
Corruption also affects all five pillars of sustainable development – people, planet, prosperity, peace, and partnerships. These crimes illegitimatize and erode trust in democratic institutions and government, inhibit social equality, and threaten economic growth.
To make the 2030 Agenda a reality, we must tackle corruption by promoting peaceful and inclusive societies, as stated in SDG 16.
The International Federation of Accountants (IFAC) knows that the accountancy profession has a direct role to play in this fight – by enhancing transparency and accountability in the public and private sectors and by supporting an ecosystem of key actors and policymakers that strive to counter corruption and economic crime at the global and domestic levels.
Accountants have a pivotal role to play in fighting corruption
The accountancy profession can drive the fight against corruption, as an essential aspect of strong and sustainable government institutions, financial markets, economies and society. As professional accountants hold key positions in, or as advisors to, nearly every business and public sector entity worldwide, we have extensive reach.
Through audits and advising organisations, accountants regularly help the public and private sectors, and society at large, in the fight against economic crimes including money laundering and fraud. The accountancy profession has long supported the development of smart regulatory frameworks that promote compliance by balancing the needs of all stakeholders.
In fact, many of the accountancy profession's regular activities already contribute to fighting corruption and economic crime. The establishment of harmonised global standards for audit, ethics and public sector accounting, followed by the adaptation of those standards over time based on quantitative evidence, has aided organisations and governments in identifying and responding to financial crimes.
We must build upon this experience and coordinate a broader strategy to support an ecosystem of actors working together to fight corruption on a global scale.
To answer the call, IFAC has developed an Action Plan for Fighting Corruption and Economic Crime (our Action Plan), which provides a framework for the accountancy profession's role in combatting corruption and economic crimes, thereby advancing the UN SDGs.
IFAC's proposed strategy rests on five pillars that are broad enough to support a consistent framework, even as specific actions taken by stakeholders to support the strategy evolve over time. The strategy's five pillars include:
Harnessing the full potential of education and professional development.
Supporting global standards.
Contributing to evidence-based policymaking.
Strengthening our impact through engagement and partnership.
Contributing our expertise through thought leadership and advocacy.
Developing a coordinated anti-corruption strategy
The ability to partner with a wide variety of other organisations will be critical in fighting corruption. Key players include political leaders, civil servants, business leaders, global policymakers and other regulated professionals, as well as individual citizens and taxpayers. These stakeholders must cooperate in an increasingly global policy framework, even while many of them deal with the issue domestically.
A good example of collaboration is seen in our Action Plan, which was developed in close coordination with the International Bar Association (IBA), with inspiration from their Anti Corruption Strategy for the Legal Profession, launched in 2010. This collaboration reflects the significant depth and breadth of both professions' involvement across business, the public sector and society. Simply put, our impact is stronger working together.
To strengthen and enable a more streamlined and inclusive international approach, IFAC is also committed to working with other leading organisations, such as the Basel Institute on Governance, Business at OECD and the World Economic Forum's Gatekeeper Task Force, through collective action to better address and prevent corruption.
Looking forward
According to Transparency International, perceived levels of public sector corruption have remained unchanged worldwide for the past decade.
With the right frameworks in place, the global accountancy professions are uniquely placed to change this landscape to help deliver the necessary progress to reach the UN SDGs and improve the lives of people throughout the world.