High Level Reporting Mechanism in Ukraine
Using the Ombudsman concept to report unfair business practices and boost transparency and trust
Timeline
Sep 2012
Discussions between EBRD and Ukraine's government on an anti-corruption initiative begins.
April 2013
Fact-finding mission by Basel Institute to Ukraine commissioned by EBRD.
Jun–Jul 2013
Multi-stakeholder group discusses key elements for an MoU framework on anti-corruption initiatives and an HLRM-type mechanism.
Nov 2013
Cabinet of Ministries of Ukraine approves draft MoU. Victor Yanukovych refuses to sign it.
Spring 2014
Re-engagement on the MoU with the new Government of Ukraine.
May 12, 2014
Signature of MoU on the Ukrainian Anti-Corruption Initiative, which established principles for creating a business ombudsman institution
May - Jul 2014
Multi-stakeholder meetings to establish Business Ombudsman and legal framework.
Nov 26, 2014
Cabinet of Ministers of Ukraine issues Resolution n. 691 to establish the Business Ombudsman
Dec 22, 2014
Appointment of Algirdas Šemeta, former EU Commissioner and Minister of Finance of Lithuania, as Business Ombudsman.
May 2015 - present
BOC begins operations in May 2015. Activities and impact of the BOC are made public on the BOC's website. The BOC has actively participated in the elaboration of a draft law to strengthen its institutionalisation. The bill is pending parliamentary consideration.
October 2019
Marcin Święcicki takes over from Algirdas Šemeta as Business Ombudsman.
Further information
Documents
Online resources
Overview
Ukraine's Business Ombudsman Council (BOC) is now the primary channel for companies to report unfair business practices. It was formally established in May 2015 as a result of discussions with various stakeholders and its development was overseen by the European Bank for Reconstruction and Development and Basel Institute on Governance.
A variation on the HLRM, the BOC operates as an independent institution. Its multi-stakeholder Supervisory Board includes representatives from the Ukrainian Cabinet of Ministers, international organisations (EBRD, OECD) and independent business associations.
The BOC is already helping to boost transparency and trust in business practices in Ukraine. Between May 2015 and December 2017, the BOC received more than 2,900 complaints. More and more cases are being submitted, mostly by SMEs, with a satisfaction rate of around 95%.
The direct financial impact on businesses in Ukraine is regularly updated on the BOC website and already runs into hundreds of millions of US dollars.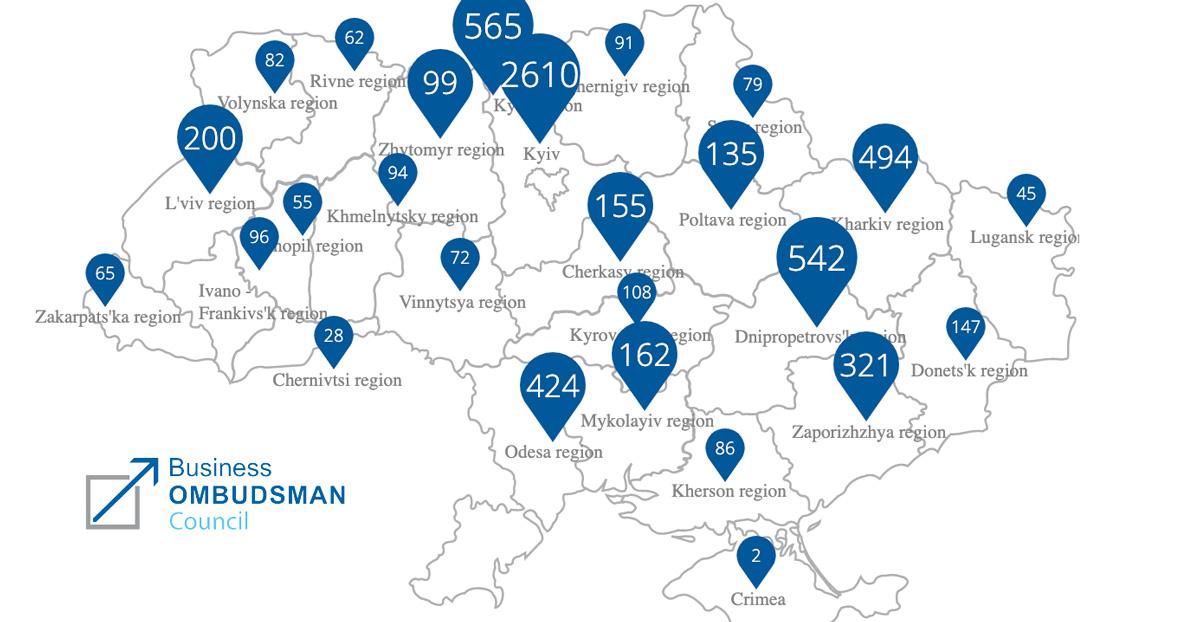 How the Ukrainian BOC Works
Ukraine's Business Ombudsman Council shares many of the HLRM's defining features. Alerts are received, assessed and, if appropriate, brought to the attention of the relevant authorities during regular or on-demand meetings. It takes around three months to process a complaint. As an independent body, businesses and individuals regard the BOC as trustworthy.
The system benefits all parties. For example, the BOC can gain clarifications for businesses about laws and regulations, as well as inform authorities about their potential misinterpretation. The Council can also make recommendations to authorities and agree on how to rectify wrongdoings within a specified timeframe. The implementation of BOC recommendations by authorities is currently around 87% – significant considering it does not have official enforcement powers.
Algirdas Šemeta introduces the Business Ombudsman Council
Algirdas Šemeta, Ukraine's first Business Ombudsman, explains the concept behind the Business Ombudsman Council.
Presenting the Business Ombudsman Council in Ukraine
A short presentation on the key features of Ukraine's Business Ombudsman Council.
Country case studies
Explore our work and read more case studies
Colombia
Colombia has led the way in adopting and expanding the HLRM concept. It developed the first HLRM in 2013 to ensure a smooth and fair public tender process for the national 4G road infrastructure project.
Argentina
Argentina launched an HLRM in January 2018. In the pilot phase launched in April 2018, it applied to public-private partnership (PPP) contracts under a National Highways Directorate (Dirección Nacional de Vialidad, DNV) project to develop 7,500 km of new highways and safe routes.
Panama
The Government of Panama originally envisaged the HLRM to apply to tenders in the infrastructure, but in 2015, decided to change the focus and apply the HLRM to oversee public procurement by the national Social Security Fund.