20.10.2022
Collective Action set up for success: practical insights on enhancing business integrity through multi-stakeholder collaboration
Collective Action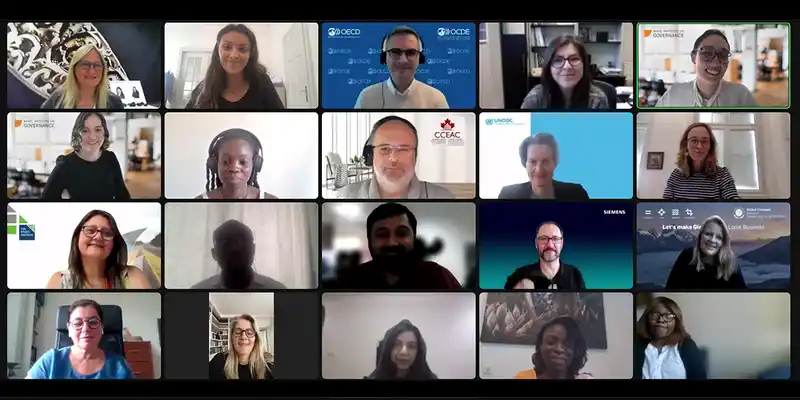 The rapid expansion of anti-corruption Collective Action is offering businesses, governments and civil society groups powerful ways to enhance business integrity and create fair business conditions. What does Collective Action look like in practice? What benefits does it bring, what is success, and how do you measure it? And what should we expect from each other in these multi-stakeholder initiatives?
A Basel Institute webinar on 19 October 2022 brought together four leading speakers in Collective Action to answer these questions and more from their own hands-on experience. Each represented a different stakeholder group commonly involved in anti-corruption Collective Action initiatives: government, the private sector, civil society and multilateral organisations.
The panel discussion built on insights from the 4th International Collective Action Conference and Awards in Basel. The conference summary highlights that our collective goal is the same: creating a clean, fair and sustainable business environment for all. But different stakeholders have very different incentives, contributions and expectations.
The Basel Institute's Head of Private Sector Vanessa Hans moderated the discussion, which is available on YouTube here.
Collective Action endorsed in key international standards
Vitor Geromel of the Anti-Corruption Division of the Directorate for Financial and Enterprise Affairs at the OECD highlighted the OECD's endorsement of Collective Action in its 2021 Anti-Bribery Recommendation.
The endorsement not only provides inspiration and guidance for those seeking effective ways to prevent and combat bribery through multi-stakeholder collaboration. It also means that the OECD Working Group on Bribery will from now on assess whether and how OECD member countries are incentivising and taking part in anti-corruption Collective Action as part of its rigorous peer review mechanism. This is vital in making Collective Action a standard element in anti-corruption compliance and state-led business integrity strategies.
The endorsement also strengthens the OECD's existing support for multi-stakeholder engagement on anti-corruption, which is built into its peer review process and the development of guidance products and studies.
An upcoming example is a new toolkit that provides guidance and success stories on the use of Collective Action to help small and medium-sized enterprises (SMEs) assess and mitigate their bribery risks. The toolkit is set to be released in November at the OECD's Business Integrity Roundtable, which brings together representatives from the private sector, civil society, public authorities to openly discuss the challenges they face in implementing the OECD Anti-Bribery Convention.
Public-private learning and agility
Daniela Santana Silva of the Office of the Comptroller General of the Republic of Chile, shared her Office's experiences in developing Chile's National Anti-Corruption Strategy, which endorses Collective Action. The strategy's development itself involved wide-ranging public consultations to understand the main integrity concerns of all citizen and business groups.
Daniela highlighted significant benefits for government entities, including comptroller generals or supreme audit institutions, engaging with the private sector on anti-corruption. It makes all of us more agile and ready to respond to fast-changing evolutions in how corruption is perpetrated, she said. It boosts information-sharing and results in anti-corruption policies that are more likely to be effective as they take into account everyone's needs.
She also pointed to how public and private-sector entities can learn a lot from one another. Some elements of corporate anti-corruption compliance programmes and financial audit models can be replicated in the public sphere. Government-run whistleblowing protection mechanisms may offer lessons for companies seeking to strengthen reporting channels.
Setting up for success: lessons from Nigeria
Soji Apampa of the Convention on Business Integrity (CBi), a civil society organisation, shared real-life success stories of fighting corruption through Collective Action in Nigeria. His organisation's collaboration with the Maritime Anti-Corruption Network to reduce bribe demands in Nigeria's ports won the Basel Institute's 2021 Collective Action Award for outstanding achievements.
Soji explained how civil society organisations seeking to facilitate Collective Action could set themselves up for success. He stressed the need to make sure that everyone involved with or impacted by the Collective Action should be consulted. This will help you to align the activities of the Collective Action initiative with the interests of the stakeholders, he said, which is crucial to maintain engagement. And it follows that the initiative's activities and immediate goals have to be narrowly focused – narrow enough to measure change and evaluate success.
On what is success, Soji stressed the difference between short-term improvements (such as a reduction in reports of bribery demands) and long-term change (such as the government's inclusion of the initiative's recommendations in regulations and standard operating procedures). To get there, civil society organisations need to find an issue narrow enough that really matters for stakeholders, get the right partners on side, and present data and evidence that shows the extent of the problem and the benefits of solving it.
Integrity community: how SMEs benefit from Collective Action
Vibeke Lyssand Leirvag, Managing Director of high-end jewellery company Felicia Designs Ltd., shared insights from her experience as a Norwegian building a 150-strong business in Thailand. SMEs are like small fish in the sea, she said: alone, they're vulnerable but by joining together they can chase off the sharks.
As a member of the Thai Collective Action Against Corruption, Vibeke explained that belonging to such an "integrity" community brings multiple benefits to an SME. It helps company leaders to build ethical values and practices into the company's DNA, and to demonstrate that even small businesses benefit from operating with integrity.
Sharing experiences, accessing training, and learning from both peers and larger companies are invaluable, she said. And engagement in Collection Action, especially when its supported by a certification scheme, can open up important access to business opportunities on international markets.
She urged larger businesses to use innovative Collective Action approaches to strengthen integrity along their supply chains and among the wider SME community. Practical things that really help are clear and easy-to-understand guidance and tools, and hands-on training to help SMEs pass audits and obtain certifications.
More