26.11.2020
Measuring effectiveness of anti-corruption programmes in the health care sector: Developing indicators through a Collective Action approach
Collective Action, Compliance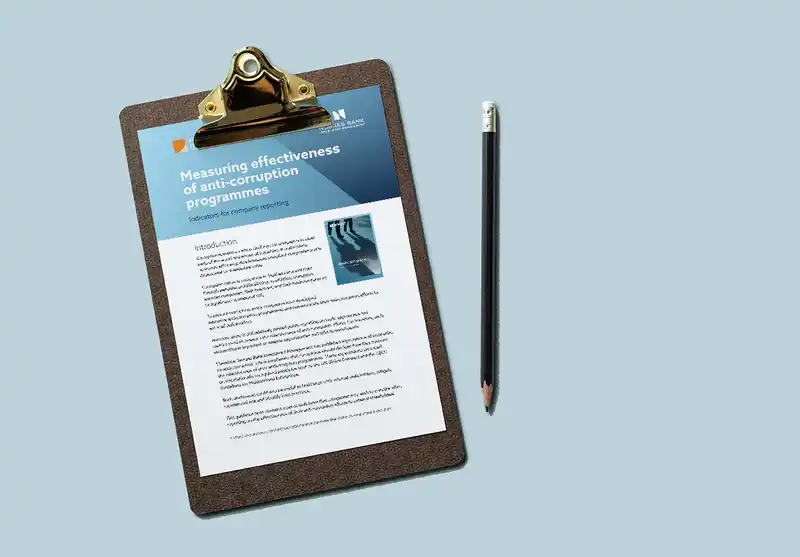 The Basel Institute's Collective Action team has facilitated the co-development of a set of indicators that health care companies may wish to consider when reporting on the effectiveness of their anti-corruption efforts to external stakeholders.
The guidance note containing the indicators was developed over seven months by a group of health care companies under an innovative project of Norges Bank Investment Management.
Voluntary disclosures on anti-corruption
The project responds to the earlier publication by Norges Bank Investment Management of expectations of companies on anti-corruption, which emphasises that companies should disclose how they measure the effectiveness of their anti-corruption programmes.
These expectations are based on internationally recognised principles such as the UN Global Compact and the OECD Guidelines for Multinational Enterprises. Such voluntary disclosures could also be useful to build trust with external stakeholders, mitigate reputational risk and identify best practices.
Common themes, dynamic discussions
The health sector is especially vulnerable to compliance risks because of the complexity of its value chain and the size of the financial flows in the sector. However, the general themes and many of the indicators may be applicable to a wide range of industries:
Culture
Risk management
Third parties
Compliance function
Oversight
A Collective Action approach
Vanessa Hans, Private Sector Specialist at the Basel Institute and co-facilitator of the working group along with Head of Compliance and Collective Action Gemma Aiolfi, said:
"It was motivating to see the working group members learning from each other and exchanging opinions about best practices. The discussions were open and didn't shy away from challenges– which was impressive because the work was accomplished in a short time period. Fortunately the companies had initial discussions with Norges Bank Investment Management and were keen to work together with us in this Collective Action. We hope this guidance note will inspire not only other companies within the health care sector but across other industries, and be the start of ongoing work on this important aspect of anti-corruption compliance management systems."
Learn more about the Basel Institute's track record in anti-corruption Collective Action and find resources and inspiration on the B20 Collective Action Hub.
See the Norges Bank Investment Management news release: Guidance note on company reporting on anti-corruption efforts